<
shade in the jesuit fathers' church in Upper Gardiner street, the sacred edifice being thronged to the doors to hear her with virtuosos, or virtuosi rather. There was the unanimous opinion that there was none to come up to her and, suffice it to say in a place of worship for music of a sacred character, there was a generally voiced desire for an encore.
On the whole, though favouring preferably light opera of the Don Giovanni description, and Martha, a gem in its line, he had a penchant, though with only a surface knowledge, for the severe classical school such as Mendelssohn. And talking of that, taking it for granted he knew all about the old favourites, he mentioned par excellence Lionel's air in Martha, M'appari, which, curiously enough, he had heard, or overheard, to be more accurate, on yesterday, a privilege he keenly appreciated, from the lips of Stephen's respected father, sung to perfection, a study of the number, in fact, which made all the others take a back seat.
Stephen, in reply to a politely put query, said he didn't but launched out into praises of Shakespeare's songs, at least of in or about that period, the lutenist Dowland who lived in Fetter Lane near Gerard the herbalist, who annos ludendo hausi, Doulandus, an instrument he was contemplating purchasing from Mr Arnold Dolmetsch, whom Bloom did not quite recall, though the name certainly sounded familiar, for sixtyfive guineas and Farnaby and son with their dux and comes conceits and Byrd (William), who played the virginals, he said, in the Queen's Chapel or anywhere else he found them and one Tomkins who made toys or airs and John Bull.
Annos ludendo hausi
= 'I used up my years in playing'
Arnold Dolmetsch w/lute c1925
$9000
today
Farnaby
♬
On the roadway which they were approaching whilst still speaking beyond the swingchains, a horse, dragging a sweeper, paced on the paven ground, brushing a long swathe of mire up so that with the noise Bloom was not perfectly certain whether he had caught aright the allusion to sixtyfive guineas and John Bull. He inquired if it was John Bull the political celebrity of that ilk, as it struck him, the two identical names, as a striking coincidence.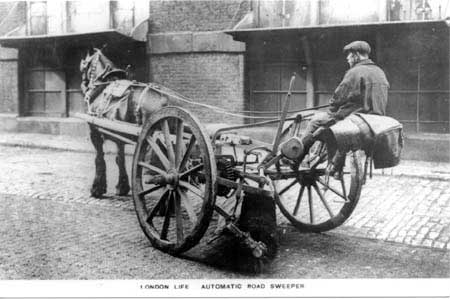 By the chains, the horse slowly swerved to turn, which perceiving Bloom, who was keeping a sharp lookout as usual plucked the other's sleeve gently, jocosely remarking:
— Our lives are in peril tonight. Beware of the steamroller.
They thereupon stopped. Bloom looked at the head of a horse not worth anything like sixtyfive guineas, suddenly in evidence in the dark quite near, so that it seemed new, a different grouping of bones and even flesh, because palpably it was a fourwalker, a hipshaker, a blackbuttocker, a taildangler, a headhanger, putting his hind foot foremost the while the lord of his creation
mysteries:
[DD]
[IM]
[LV1]
[LV2]
eumeus
:
569
570
571
572
573
574
575
576
577
578
579
580
581
582
583
584
585
586
587
588
589
590
591
592
593
594
595
596
597
598
599
600
601
602
603
604
605
606
607
608
609
610
611
612
613
614
615
616
617
618