<
Plumtree's potted meat, an oval wicker basket bedded with fibre and containing one Jersey pear, a halfempty bottle of William Gilbey and Co's white invalid port, half disrobed of its swathe of coralpink tissue paper, a packet of Epps's soluble cocoa, five ounces of Anne Lynch's choice tea at 2/- per lb in a crinkled leadpaper bag, a cylindrical canister containing the best crystallised lump sugar, two onions, one, the larger, Spanish, entire, the other, smaller, Irish, bisected with augmented surface and more redolent, a jar of Irish Model Dairy's cream, a jug of brown crockery containing a naggin and a quarter of soured adulterated milk, converted by heat into water, acidulous serum and semisolidified curds, which added to the quantity subtracted for Mr Bloom's and Mrs Fleming's breakfasts, made one imperial pint, the total quantity originally delivered, two cloves, a halfpenny and a small dish containing a slice of fresh ribsteak. On the upper shelf a battery of jamjars (empty) of various sizes and proveniences.
milkjug?
What attracted his attention lying on the apron of the dresser?
Four polygonal fragments of two lacerated scarlet betting tickets, numbered 8 87, 88 6.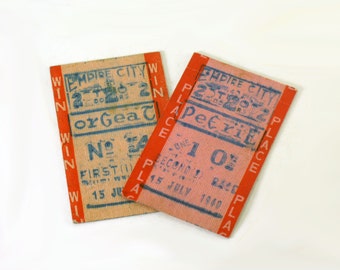 What reminiscences temporarily corrugated his brow?
Reminiscences of coincidences, truth stranger than fiction, preindicative of the result of the Gold Cup flat handicap, the official and definitive result of which he had read in the Evening Telegraph, late pink edition, in the cabman's shelter, at Butt bridge.
Where had previous intimations of the result, effected or projected, been received by him?
In Bernard Kiernan's licensed premises 8, 9 and 10 Little Britain street: in David Byrne's licensed premises, 14 Duke street: in O'Connell street lower, outside Graham Lemon's when a dark man had placed in his hand a throwaway (subsequently thrown away) advertising Elijah, restorer of the church in Zion: in Lincoln place outside the premises of F.W. Sweny and Co (Limited), dispensing chemists, when, when Frederick M. (Bantam) Lyons had rapidly and successively requested, perused and restituted the copy of the current issue of the Freeman's Journal and National Press which he had been about to throw away (subsequently thrown away), he had proceeded towards the oriental edifice of the Turkish and Warm Baths, 11 Leinster street, with the light of
mysteries:
[DD]
[IM]
[LV1]
[LV2]
ithaca
:
619
620
621
622
623
624
625
626
627
628
629
630
631
632
633
634
635
636
637
642
639
640
641
642
643
644
645
646
647
648
649
650
651
652
653
654
655
656
657
658
659
660
661
662
663
664
665
666
667
668
669
670
671
672
673
674
675
676
677
678
679
680
681
682
683
684
685
686
687
688
689