<
1909 map
even though it's after 11pm on a Thursday, there's still a "crowd" hanging out here, including children (
1901 census
)
(The Mabbot street entrance of nighttown, before which stretches an uncobbled tramsiding set with skeleton tracks, red and green will-o'-the-wisps and danger signals. Rows of grimy houses with gaping doors. Rare lamps with faint rainbow fans.
draft
: "(Night town. Rows of grimy houses with gaping doors. Rare smoky lamps."
(all lightsources are muted/imperfect)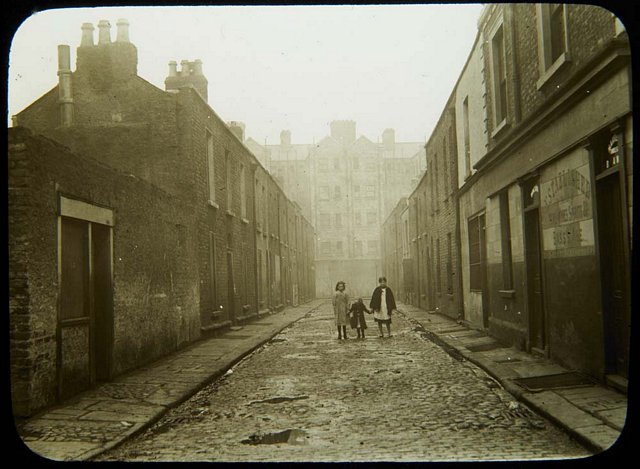 Faithful place (around the corner)
"Rare lamps" = few?
"rainbow fans" = trick of eye, or prism-glass?
Round Rabaiotti's halted ice gondola stunted men and women squabble. They grab wafers between which are wedged lumps of coral and copper snow. Sucking, they scatter slowly. Children. The swancomb of the gondola, highreared, forges on through the murk, white and blue under a lighthouse. Whistles call and answer.)
draft
: "Little men and women squabble for ices round a halted gondola. They receive wafers between which are wedged lumps of coral and coppery snow. The little men and women scatter slowly, sucking up the melting coloured snow. They are children. The high reared comb of the gondola pushes on through the dark, passing under the lamplight, white and blue. Whistles are heard in the distance, calling and answering: Wait, my lover, and I'll be with you."
at least 3 kids so far
"stunted" = poor diet and pollution stunted children's growth and prematurely aged them
Neapolitan icecream sandwich c1905?
comparing Venetian gondolas to swan's necks goes back to
1730
in English. i don't find any evidence that Rabaiotti's carts were called gondolas, or had any swan-shaped neck. swans don't have combs/crests on their heads, either. (what lighthouse? is this part of Rabaiotti's logo?)
there must be an adult tending the cart, and two unseen adults whistling
THE CALLS
Wait, my love, and I'll be with you.
(song lyric??)
'Wait a moment, my love; don't be frightened-- and I'll be with you, -- as soon as I can find the door.' [
1843
]
THE ANSWERS
Round behind the stable.
the romantic image deflated as a crude meetup
(A deafmute idiot with goggle eyes, his shapeless mouth dribbling, jerks past, shaken in Saint Vitus' dance. A chain of children's hands imprisons him.)
this is the first 'visible' adult
30sec video
(at least four kids now, maybe still the icecream ones)
THE CHILDREN
Kithogue! Salute!
left hand, left handed [
eg
] cf 'deshil'
or just clumsy (would they notice if his right arm is useless?)
THE IDIOT
(Lifts a palsied left arm and gurgles.) Ghahute!
(he knows left from right, then? and reads lips???)
Gabler imposes a nonauthorial style on all these stage directions, dropping caps and fullstops
THE CHILDREN
Where's the great light?
Masonic imagery?
used by Pater, of Bruno [
1889
]
mysteries: design of icecream carts
[DD]
[IM]
[LV1]
[LV2]
circe
:
408
409
410
411
412
413
414
415
416
417
418
419
420
421
422
423
424
425
426
427
428
429
430
431
432
433
434
435
436
437
442
439
440
441
442
443
444
445
446
447
448
449
450
451
452
453
454
455
456
457
458
459
460
461
462
463
464
465
466
467
468
469
470
471
472
473
474
475
476
477
478
479
480
481
482
483
484
485
486
487
488
489
490
491
492
493
494
495
496
497
498
499
500
501
502
503
504
505
506
507
508
509
510
511
512
513
514
515
516
517
518
519
520
521
522
523
524
525
526
527
528
529
530
531
532
533
534
535
536
537
552
539
540
541
542
543
544
545
546
547
548
549
550
551
552
553
554
555
556
557
558
559
560
561
562
563
564
565