<
at the side presents to him lovelorn longlost lugubru Booloohoom. Grave Gladstone sees him level, Bloom for Bloom. He passes, struck by the stare of truculent Wellington, but in the convex mirror grin unstruck the bonham eyes and fatchuck cheekchops of jollypoldy the rixdix doldy.
concave (image upright and magnified if within focal length) = tragedy???
level = flat mirror
convex (image upright but smaller) = comedy??? (maybe it's like a funhouse mirror, convex only vertically or only horizontally?)
Nelson/Gladstone/Wellington
Gladstone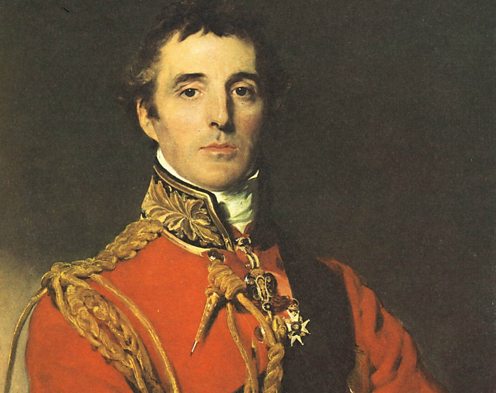 Wellington
bonham
At Antonio Rabaiotti's door Bloom halts, sweated under the bright arclamp. He disappears. In a moment he reappears and hurries on.)
BLOOM
Fish and taters. N.g. Ah!
(He disappears into Olhausen's, the pork butcher's, under the downcoming rollshutter. A few moments later he emerges from under the shutter, puffing Poldy, blowing Bloohoom. In each hand he holds a parcel, one containing a lukewarm pig's crubeen, the other a cold sheep's trotter sprinkled with wholepepper. He gasps, standing upright. Then bending to one side he presses a parcel against his ribs and groans.)
draft
: "Bloom comes round the corner hastily and stops. In each hand he has a paper parcel, one containing a lukewarm pig's crubeen and a cold sheep's trotter sprinkled with wholepepper, the other two slices of quatern loaf and a tablet of Fry's chocolate. He frowns slightly and hesitates."
his budget will show:
1 Pig's Foot                     0.0.4
1 Sheep's Trotter                0.0.3
1 Cake Fry's Plain Chocolate     0.1.0
1 Square Soda Bread              0.0.4
BLOOM
Stitch in my side. Why did I run?

(He takes breath with care and goes forward slowly towards the lampset siding. The glow leaps again.)
BLOOM
What is that? A flasher? Searchlight.

(He stands at Cormack's corner, watching.)
BLOOM
Aurora borealis or a steel foundry? Ah, the brigade, of course. South side anyhow. Big blaze. Might be his house. Beggar's bush. We're safe. (He hums cheerfully.) London's burning, London's burning! On fire, on fire! (He catches sight of the navvy lurching through the crowd at the farther side of Talbot street.) I'll miss him. Run. Quick. Better cross here.
♬
(He darts to cross the road. Urchins shout.)
mysteries:
[DD]
[IM]
[LV1]
[LV2]
circe
:
408
409
410
411
412
413
414
415
416
417
418
419
420
421
422
423
424
425
426
427
428
429
430
431
432
433
434
435
436
437
442
439
440
441
442
443
444
445
446
447
448
449
450
451
452
453
454
455
456
457
458
459
460
461
462
463
464
465
466
467
468
469
470
471
472
473
474
475
476
477
478
479
480
481
482
483
484
485
486
487
488
489
490
491
492
493
494
495
496
497
498
499
500
501
502
503
504
505
506
507
508
509
510
511
512
513
514
515
516
517
518
519
520
521
522
523
524
525
526
527
528
529
530
531
532
533
534
535
536
537
552
539
540
541
542
543
544
545
546
547
548
549
550
551
552
553
554
555
556
557
558
559
560
561
562
563
564
565