<
— U.P: up, she said. Someone taking a rise out of him. It's a great shame for them whoever he is.
"U.P: up"
recurs 14 times
but it can't be what the card actually says
if there were periods, it would mean the letters stood for something (like United Presbyterian), and Bloom would speak or think those words
the 4th choice here might be re-read as 'P U'-- you stink
Someone
— Indeed it is, Mr Bloom said.
She took back the card, sighing.
— And now he's going round to Mr Menton's office. He's going to take an action for ten thousand pounds, he says.
nextdoor to Dillon's auction rooms just across the river
She folded the card into her untidy bag and snapped the catch.
Same blue serge dress she had two years ago, the nap bleaching. Seen its best days. Wispish hair over her ears. And that dowdy toque: three old grapes to take the harm out of it. Shabby genteel. She used to be a tasty dresser. Lines round her mouth. Only a year or so older than Molly.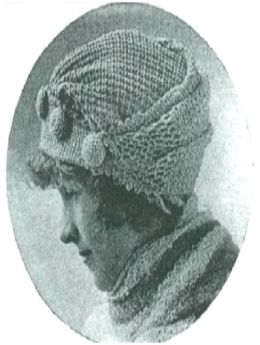 one style of toque
Molly is 33yo, Bloom is 38
See the eye that woman gave her, passing. Cruel. The unfair sex.
He looked still at her, holding back behind his look his discontent. Pungent mockturtle oxtail mulligatawny. I'm hungry too. Flakes of pastry on the gusset of her dress: daub of sugary flour stuck to her cheek. Rhubarb tart with liberal fillings, rich fruit interior. Josie Powell that was. In Luke Doyle's long ago, Dolphin's Barn, the charades. U.p: up.
Change the subject.
— Do you ever see anything of Mrs Beaufoy? Mr Bloom asked.
— Mina Purefoy? she said.
Philip Beaufoy I was thinking. Playgoers' club. Matcham often thinks of the masterstroke. Did I pull the chain? Yes. The last act.
p
66
-67
— Yes.
— I just called to ask on the way in is she over it. She's in the lying-in hospital in Holles street. Dr Horne got her in. She's three days bad now.
"on the way in" = the Breens live SE of Dublin?
— O, Mr Bloom said. I'm sorry to hear that.
— Yes, Mrs Breen said. And a houseful of kids at home. It's a very stiff birth, the nurse told me.
— O, Mr Bloom said.
His heavy pitying gaze absorbed her news. His tongue clacked in compassion. Dth! Dth!
the cliche is 'Tsk! Tsk!' ...so how is "Dth" better? less judgmental?
— I'm sorry to hear that, he said. Poor thing! Three days! That's terrible for her.
Mrs Breen nodded.
— She was taken bad on the Tuesday...
Mr Bloom touched her funnybone gently, warning her:
— Mind! Let this man pass.
mysteries:
[DD 02:28-03:32]
[DD 00:00-02:28]
[IM 18:32-20:48]
[LV1 19:30-21:55]
[LV2 22:23-25:08]
lestrygonians
:
144
145
146
147
148
149
150
151
152
153
154
155
156
157
158
159
160
161
162
163
164
165
166
167
168
169
170
171
172
173
174
175