editions: [
1922
] [
html
] [
archv
]
notes: [
Th
] [
G&S
] [Dent] [
wbks
] [
rw
] [
images
] [
hyper
]
Delaney: [
311
] Useen: [] [
cp
] maps: [
path
] [
other
] [
*
]
<
their beats. Let out to graze. Best moment to attack one in pudding time. A punch in his dinner. A squad of others, marching irregularly, rounded Trinity railings, making for the station. Bound for their troughs. Prepare to receive cavalry. Prepare to receive soup.
He crossed under Tommy Moore's roguish finger. They did right to put him up over a urinal: meeting of the waters. Ought to be places for women. Running into cakeshops. Settle my hat straight. There is not in this wide world a vallee. Great song of Julia Morkan's. Kept her voice up to the very last. Pupil of Michael Balfe's, wasn't she?
"crossed" (the statue was in the middle of College street?)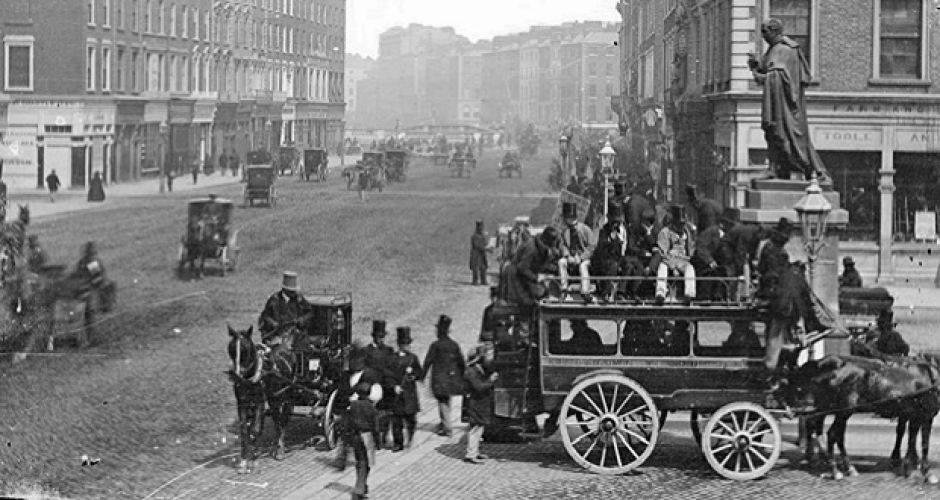 1875
He gazed after the last broad tunic. Nasty customers to tackle. Jack Power could a tale unfold: father a G man. If a fellow gave them trouble being lagged they let him have it hot and heavy in the bridewell. Can't blame them after all with the job they have especially the young hornies. That horse policeman the day Joe Chamberlain was given his degree in Trinity he got a run for his money. My word he did! His horse's hoofs clattering after us down Abbey street. Lucky I had the presence of mind to dive into Manning's or I was souped. He did come a wallop, by George. Must have cracked his skull on the cobblestones. I oughtn't to have got myself swept along with those medicals. And the Trinity jibs in their mortarboards. Looking for trouble. Still I got to know that young Dixon who dressed that sting for me in the Mater and now he's in Holles street where Mrs Purefoy. Wheels within wheels. Police whistle in my ears still. All skedaddled. Why he fixed on me. Give me in charge. Right here it began.
Hamlet
I.v
"I could a tale unfold"
18 Dec 1899
— Up the Boers!
— Three cheers for De Wet!
De Wet
— We'll hang Joe Chamberlain on a sourapple tree.
lyrics
,
history
,
♬
Silly billies: mob of young cubs yelling their guts out. Vinegar hill. The Butter exchange band. Few years' time half of them magistrates and civil servants. War comes on: into the army helterskelter: same fellows used to. Whether on the scaffold high.
Butter Exchange Band est
1878
,
music
"Whether on the scaffold high"
♬
Never know who you're talking to. Corny Kelleher he has Harvey Duff in his eye. Like that Peter or Denis or James Carey that blew the gaff on the invincibles. Member of the corporation too. Egging raw youths on to get in the know. All the time drawing secret service pay from the castle. Drop him like a hot potato. Why those plain clothes men are always courting slaveys. Easily twig a man used to uniform. Squarepushing up against a backdoor. Maul her a bit. Then the next thing on the menu. And who is the gentleman
food imagery: Egging, raw, potato, menu
mysteries:
[DD 01:01-04:19]
[DD 00:00-00:47]
[IM 29:19-32:01]
[LV1 30:44-33:30]
[LV2 03:56-07:10]
lestrygonians
:
144
145
146
147
148
149
150
151
152
153
154
155
156
157
158
159
160
161
162
163
164
165
166
167
168
169
170
171
172
173
174
175