<
Bartell d'Arcy was the tenor, just coming out then. Seeing her home after practice. Conceited fellow with his waxedup moustache. Gave her that song Winds that blow from the south.
jump to 1:00 to hear her pronounce 'winds' as 'wynds'
Windy night that was I went to fetch her there was that lodge meeting on about those lottery tickets after Goodwin's concert in the supper room or oakroom of the Mansion house. He and I behind.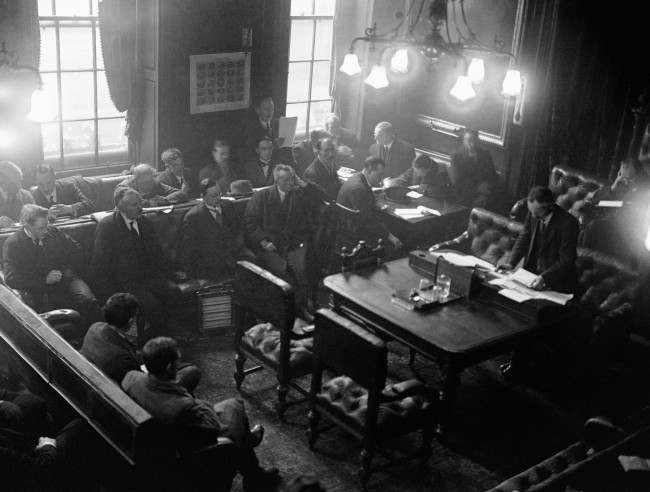 oakroom in 1922
Sheet of her music blew out of my hand against the high school railings. Lucky it didn't. Thing like that spoils the effect of a night for her. Professor Goodwin linking her in front. Shaky on his pins, poor old sot. His farewell concerts. Positively last appearance on any stage. May be for months and may be for never. Remember her laughing at the wind, her blizzard collar up. Corner of Harcourt road remember that gust? Brrfoo! Blew up all her skirts and her boa nearly smothered old Goodwin. She did get flushed in the wind.
1909 map
Erasmus Smith High School, 40 Harcourt street
HS entrance
"It may be for years and it may be forever"
♬
Remember when we got home raking up the fire and frying up those pieces of lap of mutton for her supper with the Chutney sauce she liked. And the mulled rum. Could see her in the bedroom from the hearth unclamping the busk of her stays. White.
busk
(front of corset)
Swish and soft flop her stays made on the bed. Always warm from her. Always liked to let herself out. Sitting there after till near two, taking out her hairpins. Milly tucked up in beddyhouse. Happy. Happy. That was the night...
cf
p57
? "flop and fall of dung"
fd: [
306
]
— O, Mr Bloom, how do you do?
— O, how do you do, Mrs Breen?
— No use complaining. How is Molly those times? Haven't seen her for ages.
— In the pink, Mr Bloom said gaily, Milly has a position down in Mullingar, you know.
— Go away! Isn't that grand for her?
— Yes, in a photographer's there. Getting on like a house on fire. How are all your charges?
— All on the baker's list, Mrs Breen said.
How many has she? No other in sight.
— You're in black, I see. You have no...?
— No, Mr Bloom said. I have just come from a funeral.
Going to crop up all day, I foresee. Who's dead, when and what did he die of? Turn up like a bad penny.
— O dear me, Mrs Breen said. I hope it wasn't any near relation.
May as well get her sympathy.
practical psych
— Dignam, Mr Bloom said. An old friend of mine. He died quite suddenly, poor fellow. Heart trouble, I believe. Funeral was this morning.
he quickly composes a concise answer to all three questions
mysteries:
[DD 03:25-03:47]
[DD 00:00-03:35]
[IM 13:39-16:10]
[LV1 14:36-17:13]
[LV2 16:21-19:35]
lestrygonians
:
144
145
146
147
148
149
150
151
152
153
154
155
156
157
158
159
160
161
162
163
164
165
166
167
168
169
170
171
172
173
174
175