<
Duke street. Here we are. Must eat. The Burton. Feel better then.
StreetView now
in
1901
(and still today) the numbering seems to have gone from #2 on Bloom's left (the Bailey bar/restaurant, ignored by Joyce) up the left side of the street to ~#11, and back down the right side to the Burton Hotel at #18 and Davy Byrne's at #21, opposite the Bailey. (George Moore's literary circle, including Gogarty and excluding Joyce, met at the Bailey thruout the decade.)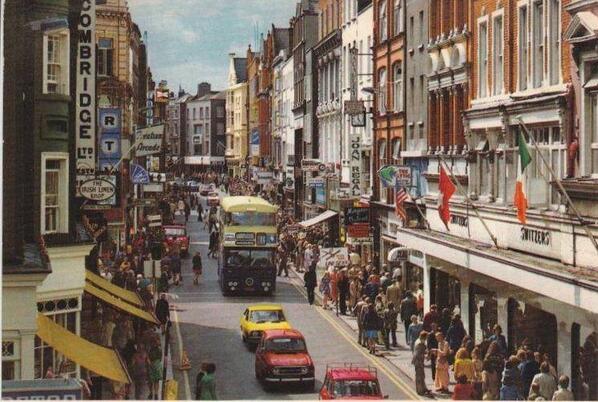 Combridge Ltd on right
He turned Combridge's corner, still pursued. Jingling hoofthuds. Perfumed bodies, warm, full. All kissed, yielded: in deep summer fields, tangled pressed grass, in trickling hallways of tenements, along sofas, creaking beds.
— Jack, love!
— Darling!
— Kiss me, Reggy!
— My boy!
— Love!
his surrendering now threatens to overwhelm him with random images of lust...?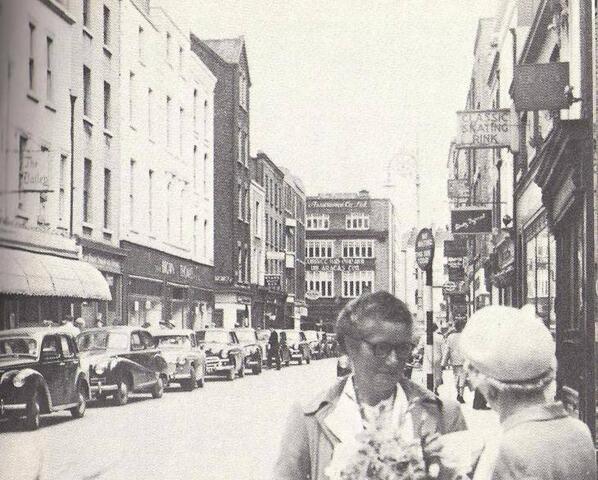 1950s
His heart astir he pushed in the door of the Burton restaurant. Stink gripped his trembling breath: pungent meatjuice, slop of greens. See the animals feed.
a few doors down on the right, 18 Duke street in
1901
whatever overwhelmed him now turns his stomach
Men, men, men.
(is it Boylan who really disgusts him?)
Perched on high stools by the bar, hats shoved back, at the tables calling for more bread no charge, swilling, wolfing gobfuls of sloppy food, their eyes bulging, wiping wetted moustaches. A pallid suetfaced young man polished his tumbler knife fork and spoon with his napkin. New set of microbes. A man with an infant's saucestained napkin tucked round him shovelled gurgling soup down his gullet. A man spitting back on his plate: halfmasticated gristle: no teeth to chewchewchew it. Chump chop from the grill. Bolting to get it over. Sad booser's eyes. Bitten off more than he can chew. Am I like that? See ourselves as others see us. Hungry man is an angry man. Working tooth and jaw. Don't! O! A bone! That last pagan king of Ireland Cormac in the schoolpoem choked himself at Sletty southward of the Boyne. Wonder what he was eating. Something galoptious. Saint Patrick converted him to Christianity. Couldn't swallow it all however.
— Roast beef and cabbage.
— One stew.
Smells of men. Spaton sawdust, sweetish warmish cigarette smoke, reek of plug, spilt beer, men's beery piss, the stale of ferment.
(why should Byrne's be any different?)
His gorge rose.
Couldn't eat a morsel here. Fellow sharpening knife and fork to eat all before him, old chap picking his tootles. Slight spasm, full, chewing the cud. Before and after. Grace after meals. Look on this picture then on that. Scoffing up stewgravy with sopping sippets of bread. Lick it off the plate, man! Get out of this.
"tootles" = teeth?
Hamlet
III.iv
"Look here upon this picture, and on this" (good vs evil)
"Get out of this" echoes commands to animals in ch3 and ch6
fd: [
317
]
He gazed round the stooled and tabled eaters, tightening the wings of his nose.
cf 'snooty'
mysteries: pix of Burton, Combridge's
[DD 02:23-03:33]
[DD 00:00-02:48]
[IM 47:12-50:03]
[LV1 02:33-05:13]
[LV2 23:49-26:45]
lestrygonians
:
144
145
146
147
148
149
150
151
152
153
154
155
156
157
158
159
160
161
162
163
164
165
166
167
168
169
170
171
172
173
174
175