<
Bending, she nipped a peak of skirt above her knee. Delayed. Taunted them still, bending, suspending, with wilful eyes.
— Sonnez!
Smack. She let free sudden in rebound her nipped elastic garter smackwarm against her smackable woman's warmhosed thigh.
elastic:
— La cloche! cried gleeful Lenehan. Trained by owner. No sawdust there.
She smilesmirked supercilious (wept! aren't men?), but, lightward gliding, mild she smiled on Boylan.
— You're the essence of vulgarity, she in gliding said.
Boylan, eyed, eyed. Tossed to fat lips his chalice, drankoff his chalice tiny, sucking the last fat violet syrupy drops. He spellbound eyes went after, after her gliding head as it went down the bar by mirrors, gilded arch for ginger ale, hock and claret glasses shimmering, a spiky shell, where it concerted, mirrored, bronze with sunnier bronze.
Yes, bronze from anearby.
— ...sweetheart, goodbye!
— I'm off, said Boylan with impatience.
He slid his chalice brisk away, grasped his change.
— Wait a shake, begged Lenehan, drinking quickly. I wanted to tell you. Tom Rochford...
— Come on to blazes, said Blazes Boylan, going.
Lenehan gulped to go.
— Got the horn or what? he said. Wait. I'm coming.
He followed the hasty creaking shoes but stood by nimbly by the threshold, saluting forms, a bulky with a slender.
— How do you do, Mr Dollard?
— Eh? How do? How do? Ben Dollard's vague bass answered, turning an instant from Father Cowley's woe. He won't give you any trouble, Bob. Alf Bergan will speak to the long fellow. We'll put a barleystraw in that Judas Iscariot's ear this time.
Sighing, Mr Dedalus came through the saloon, a finger soothing an eyelid.
— Hoho, we will, Ben Dollard yodled jollily. Come on, Simon, give us a ditty. We heard the piano.
Bald Pat, bothered waiter, waited for drink orders. Power for Richie. And Bloom? Let me see. Not make him walk twice. His corns. Four now. How warm this black is. Course nerves a bit. Refracts (is it?) heat. Let me see. Cider. Yes, bottle of cider.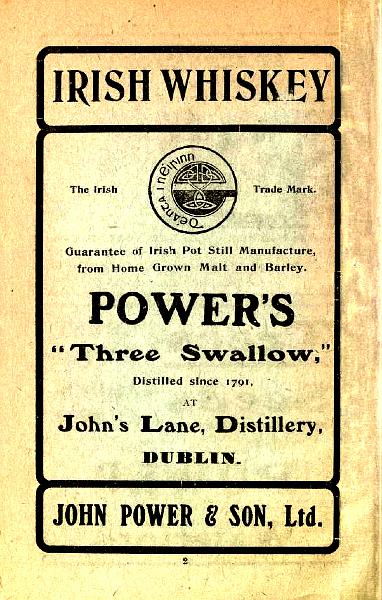 Power or Power's became Powers
mysteries:
[DD]
[IM]
[LV1]
[LV2]
sirens
:
245
246
247
248
249
250
251
252
253
254
255
256
257
258
259
260
261
262
263
264
265
266
267
268
269
270
271
272
273
274
275
276
277
278
279