<
— What's that? Mr Dedalus said. I was only vamping, man.
— Come on, come on, Ben Dollard called. Begone, dull care. Come, Bob.
sheetmusic
pdf
♬
He ambled Dollard, bulky slops, before them (hold that fellow with the: hold him now) into the saloon. He plumped him Dollard on the stool. His gouty paws plumped chords. Plumped stopped abrupt.
Bald Pat in the doorway met tealess gold returning. Bothered he wanted Power and cider. Bronze by the window watched, bronze from afar.
Jingle a tinkle jaunted.
Bloom heard a jing, a little sound. He's off. Light sob of breath Bloom sighed on the silent bluehued flowers. Jingling. He's gone. Jingle. Hear.
— Love and war, Ben, Mr Dedalus said. God be with old times.
midi:
lyrics and some sheetmusic
Miss Douce's brave eyes, unregarded, turned from the crossblind, smitten by sunlight. Gone. Pensive (who knows?), smitten (the smiting light), she lowered the dropblind with a sliding cord. She drew down pensive (why did he go so quick when I?) about her bronze, over the bar where bald stood by sister gold, inexquisite contrast, contrast inexquisite nonexquisite, slow cool dim seagreen sliding depth of shadow, eau de Nil.
closing the blind = pulling down a shadow
Douce-bronze here is the siren Parthenope, drowning herself after Boylan/Odysseus/Orpheus escapes
— Poor old Goodwin was the pianist that night, Father Cowley reminded them. There was a slight difference of opinion between himself and the Collard grand.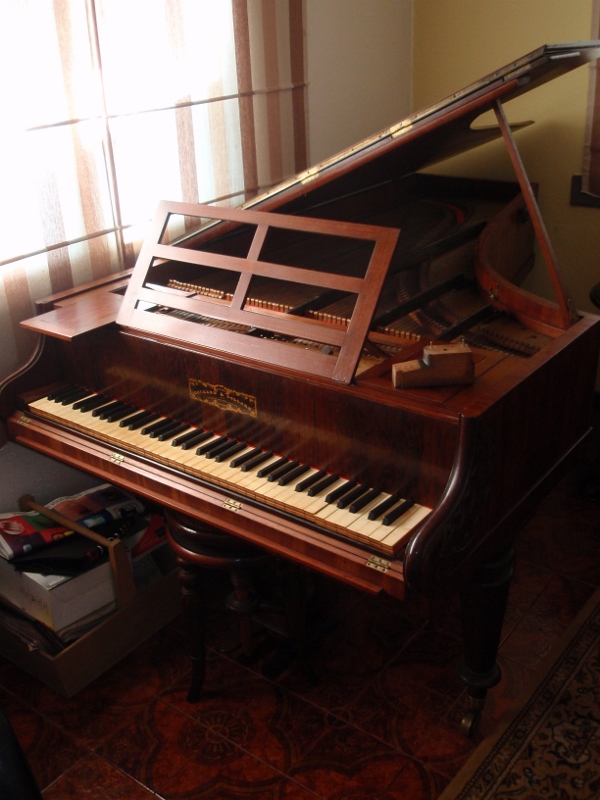 There was.
— A symposium all his own, Mr Dedalus said. The devil wouldn't stop him. He was a crotchety old fellow in the primary stage of drink.
— God, do you remember? Ben bulky Dollard said, turning from the punished keyboard. And by Japers I had no wedding garment.
They laughed all three. He had no wed. All trio laughed. No wedding garment.
— Our friend Bloom turned in handy that night, Mr Dedalus said. Where's my pipe, by the way?
He wandered back to the bar to the lost chord pipe. Bald Pat carried two diners' drinks, Richie and Poldy. And Father Cowley laughed again.
— I saved the situation, Ben, I think.
— You did, averred Ben Dollard. I remember those tight trousers too. That was a brilliant idea, Bob.
Father Cowley blushed to his brilliant purply lobes. He saved the situa. Tight trou. Brilliant ide.
— I knew he was on the rocks, he said. The wife was playing the piano
mysteries:
[DD]
[IM]
[LV1]
[LV2]
sirens
:
245
246
247
248
249
250
251
252
253
254
255
256
257
258
259
260
261
262
263
264
265
266
267
268
269
270
271
272
273
274
275
276
277
278
279