editions: [
1922
] [
html
] [
archv
]
notes: [
Th
] [
G&S
] [
Dent
] [
∞
] [
wbks
] [
rw
] [
images
] [
hyper
]
Delaney: [
0
] Useen: [] [
cp
] maps: [
other
] [
*
]
<
without a licence. And he after stuffing himself till he's fit to burst! Jesus, I had to laugh at the little jewy getting his shirt out. He drink me my teas. He eat me my sugars. Because he no pay me my moneys?
such a license would only have cost £2
'get his shirt out' = losing temper
the first of this episode's style-insertions (plausible, if a little inflated for the scale of the deal):
For nonperishable goods bought of Moses Herzog, of 13 Saint Kevin's parade in the city of Dublin, Wood quay ward, merchant, hereinafter called the vendor, and sold and delivered to Michael E. Geraghty, Esquire, of 29 Arbour Hill in the city of Dublin, Arran quay ward, gentleman, hereinafter called the purchaser, videlicet, five pounds avoirdupois of first choice tea at three shillings and no pence per pound avoirdupois and three stone avoirdupois of sugar, crushed crystal, at threepence per pound avoirdupois, the said purchaser debtor to the said vendor of one pound five shillings and sixpence sterling for value received which amount shall be paid by said purchaser to said vendor in weekly instalments every seven calendar days of three shillings and no pence sterling: and the said nonperishable goods shall not be pawned or pledged or sold or otherwise alienated by the said purchaser but shall be and remain and be held to be the sole and exclusive property of the said vendor to be disposed of at his good will and pleasure until the said amount shall have been duly paid by the said purchaser to the said vendor in the manner herein set forth as this day hereby agreed between the said vendor, his heirs, successors, trustees and assigns of the one part and the said purchaser, his heirs, successors, trustees and assigns of the other part.
about $166
today
3 shillings x 9 weeks > 1/5/6 (nothing said about interest??)
are sugar and tea really "nonperishable"? obviously the purchaser wasn't expected to leave them untouched!
joyce got geraghty's name and address out of Thom's but he doesn't seem to be in either census (1901 or 1911). it seems risky to accuse and insult him in print this way-- could joyce or his father have known him?
— Are you a strict t.t.? says Joe.
teetotaler
nonsequitur, except as prep for invite
— Not taking anything between drinks, says I.
— What about paying our respects to our friend? says Joe.
— Who? says I. Sure, he's out in John of God's off his head, poor man.
'House of St John of God' was an insane asylum
(could it be Kiernan they're taking about?)
8:56 "Kiernan's other proprietor"
— Drinking his own stuff? says Joe.
early note: 2:15 "Publican: off his head, his own drink (whiskey usquebaugh)"
— Ay, says I. Whisky and water on the brain.
— Come around to Barney Kiernan's, says Joe. I want to see the citizen.
Joe's using the full name here doesn't gibe with the "our friend" gossip above
could BK have died in
1874
? he's hard to trace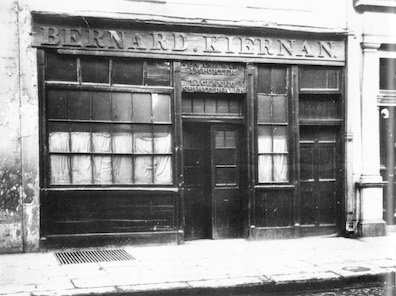 'Citizen' Michael Cusack was 53yo in 1901 [wiki]
Stephen Hero
ch17 p61 describes Michael Cusack: "A very stout black-bearded citizen who always wore a wideawake hat and a long bright green muffler... He had the voice of an ox and he could be heard at a great distance, criticising, denouncing and scoffing."
Linati schema "The Egocidal Terror"
— Barney mavourneen's be it, says I. Anything strange or wonderful, Joe?
"Anything strange or wonderful" is charming (perhaps setting up the next insertion)
— Not a word, says Joe. I was up at that meeting in the City Arms.
boring/ nothing entertaining
— What was that, Joe? says I.
— Cattle traders, says Joe, about the foot and mouth disease. I want to give the citizen the hard word about it.
the Irish Cattle Traders and Stock Owners Association met every Thursday at their offices in the
City Arms
So we went around by the Linenhall barracks and the back of the courthouse talking of one thing or another. Decent fellow Joe when he has it but sure like that he never has it. Jesus, I couldn't get over that bloody foxy Geraghty, the daylight robber. For trading without a licence, says he.
(GoogleMaps wanted to use Anne's street and Ball's lane as a shortcut)
mysteries:
[DD]
[IM]
[LV1]
[LV2]
cyclops
:
280
281
282
283
284
285
286
287
288
289
290
291
292
293
294
295
296
297
298
299
300
301
302
303
304
305
306
307
308
309
310
311
312
313
314
315
316
317
318
319
320
321
322
323
324
325
326
327
328
329
330