<
fd: [
277
]
IN THE HEART OF THE HIBERNIAN METROPOLIS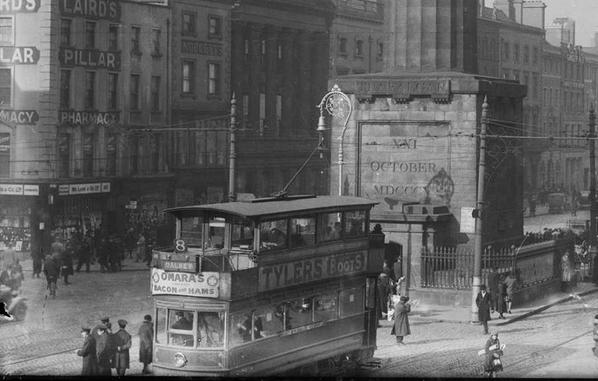 1927
cf:
Before Nelson's pillar trams slowed, shunted, changed trolley, started for Blackrock, Kingstown and Dalkey, Clonskea, Rathgar and Terenure, Palmerston Park and upper Rathmines, Sandymount Green, Rathmines, Ringsend and Sandymount Tower, Harold's Cross. The hoarse Dublin United Tramway Company's timekeeper bawled them off:
(these are geographically just the 4:00-7:00, SE-SW routes,
all others
are ignored)
pillar-to-Dalkey = 8 miles
1909 map
,
StreetView now
"timekeeper" = trams followed a schedule [
eg
] [
jpegs
]
pic:
c1930
— Rathgar and Terenure!
— Come on, Sandymount Green!
Right and left parallel clanging ringing a doubledecker and a singledeck moved from their railheads, swerved to the down line, glided parallel.
— Start, Palmerston Park!
THE WEARER OF THE CROWN
Under the porch of the general post office shoeblacks called and polished.
(where is "under the porch"?)
Parked in North Prince's street His Majesty's vermilion mailcars, bearing on their sides the royal initials, E.R., received loudly flung sacks of letters, postcards, lettercards, parcels, insured and paid, for local, provincial, British and overseas delivery.
"North Prince's street" is a one-block dead-end alley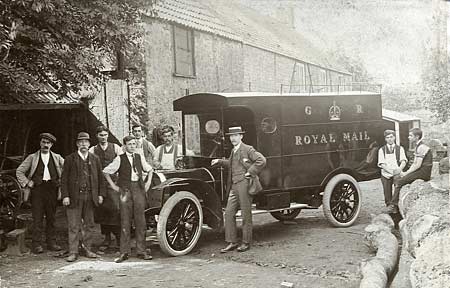 c1910 (GR = George V, 1910-1936)
"vermillion" = shade of red made from
worms
(red is the episode's
color
)
"E.R." = Edward Rex (Edward VII, the eponymous crown-wearer)
[a
60sec
1903 video of US mail loading]
GENTLEMEN OF THE PRESS
Grossbooted draymen rolled barrels dullthudding out of Prince's stores and bumped them up on the brewery float. On the brewery float bumped dullthudding barrels rolled by grossbooted draymen out of Prince's stores.
Grossbooted draymen rolled On the brewery float bumped
barrels dullthudding dullthudding barrels
out of Prince's stores rolled
and bumped them up by grossbooted draymen
on the brewery float. out of Prince's stores.
"Prince's Stores" was a
pub
at #3
(the draymen are hardly gentlemen of the press, are they?)
The Freeman's Journal was nextdoor at 4-8 Prince's street,
continuous with
the Evening Telegraph offices at 83 Middle Abbey street. Thom's was nextdoor on the Abbey side, and the Oval across the street:
— There it is, Red Murray said. Alexander Keyes.
John 'Red' Murray was JAJ's unloved 48yo uncle, doubled elsewhere as John Goulding "the cornet player" (
p39
)
Joyce's camera has panned across the outdoor streetscene (like a ghostly pedestrian) and now zooms in on the newspaperoffice interior
mysteries: tram tech vocabulary
[DD 00:06-02:10]
[IM 00:00-01:32]
[LV1 00:15-01:30]
[LV2 00:30-02:12]
eolus
:
112
113
114
115
116
117
118
119
120
121
122
123
124
125
126
127
128
129
130
131
132
133
134
135
136
137
138
139
140
141
142
143