6AA     9TL    7MD   2CK    18PD   11DD    16BM    14Si    13SD  17TF
    1FC     5BB   3os   19vc    4KB    12TK     8NL    15MC   10LB   
19 10/2 23  18 20           (24)
    13  24        16 15  42  40                 (16)
    14  25               42     17  27  29
    15 (42)(41)  (38)    42  41        (42) 38   21  34 36  31
           (36)                             39   22  35 37  32 26 40
   (33)    (43)         43/4(44)   (43)    (43) (42)   (43) 33   (44)

<
think that she was a pawnbroker! Well, now! Such a... what should he say? ...such a queenly mien.
(she's listed as Catholic-- is that unusual?)
the Dedalus sisters will discuss her 20min from now, after Conmee gets off the tram
cf FW
68
"A kingly man, of royal mien"
Father Conmee walked down Great Charles street and glanced at the shutup free church on his left. The reverend T.R. Green B.A. will (D.V.) speak. The incumbent they called him. He felt it incumbent on him to say a few words. But one should be charitable. Invincible ignorance. They acted according to their lights.
streetview now
1909 map
54yo w/4 kids in 1901
Deo volente =
God willing
(cf??
Tisdall Farrell
below: "Coactus volui." = 'against my will')
Father Conmee turned the corner and walked along the North Circular road. It was a wonder that there was no tramline in such an important thoroughfare. Surely, there ought to be.
streetview now
1909 map
(aka Richmond place?)
cf p
94
: "I can't make out why the corporation doesn't run a tramline from the parkgate to the quays, Mr Bloom said."
around here, Lenehan
sees
the demo of Rochford's invention, and Boylan
sees
the HELY'S men
(thoughts-per-block declines here)
A band of satchelled schoolboys crossed from Richmond street. All raised untidy caps. Father Conmee greeted them more than once benignly. Christian brother boys.
streetview now
1909 map
he takes less trouble with them? snobbishly??
school
Father Conmee smelt incense on his right hand as he walked. Saint Joseph's church, Portland row. For aged and virtuous females. Father Conmee raised his hat to the Blessed Sacrament. Virtuous: but occasionally they were also badtempered.
streetview now
1909 map
surprising that he puts this into words
around this time, Boylan phones
Miss Dunne
, the
cavalcade
sets out, and Lenehan
spots
Bloom (the timing seems squeezed)
Near Aldborough house Father Conmee thought of that spendthrift nobleman. And now it was an office or something.
post office &c
streetview now
1909 map
Father Conmee began to walk along the North Strand road and was saluted by Mr William Gallagher who stood in the doorway of his shop. Father Conmee saluted Mr William Gallagher and perceived the odours that came from baconflitches and ample cools of butter.
streetview now
1909 map
baconflitches (half-pig each)
without refrigeration, the butter would be soft and spoil quickly, so the cools couldn't be too ample
(why is Conmee so sensitive to scents? substitute for/ indication of gluttony?)
somewhere around here the onelegged sailor's own
section
starts, passing Katey and Boody and the stout woman before Molly's arm intrudes on Corny
He passed Grogan's the tobacconist against which newsboards leaned and told of a dreadful catastrophe in New York. In America those things were continually happening. Unfortunate people to die like that, unprepared. Still, an act of perfect contrition.
Grogan was just an assistant in
1901
we got Bloom's view of the Slocum disaster in episode
8
and we'll get Kernan's in section
12TK
Father Conmee went by Daniel Bergin's publichouse against the window of which two unlabouring men lounged. They saluted him and were saluted.
"unlabouring" = euphemism for lazy
Father Conmee passed H.J. O'Neill's funeral establishment where Corny Kelleher totted figures in the daybook while he chewed a blade of hay. A constable on his beat saluted Father Conmee and Father Conmee saluted the constable.
it's now about 3:15pm. Corny will get the
next
short section 2CK, starting just after Conmee passes.
the undertaker's name in
1901
was Kerrigan
In Youkstetter's, the porkbutcher's, Father Conmee observed pig's puddings, white and black and red, lying neatly curled in tubes.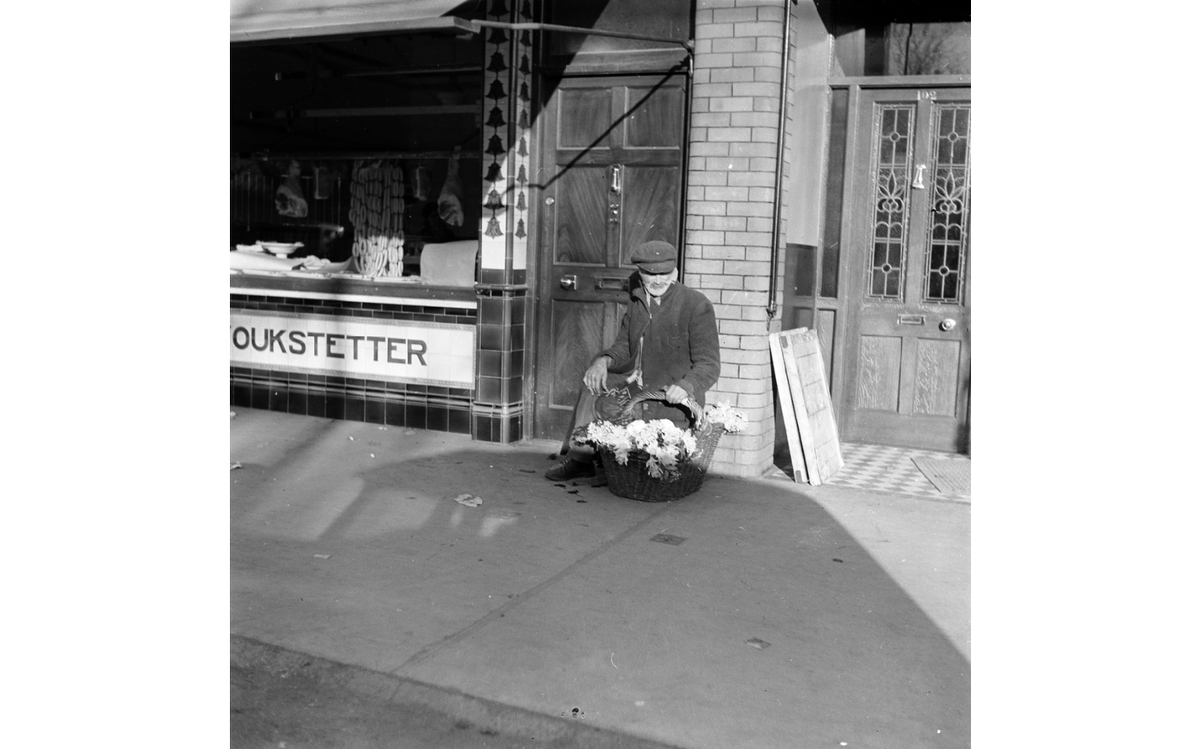 1909 map
Moored under the trees of Charleville Mall Father Conmee saw a turfbarge, a towhorse with pendent head, a bargeman with a hat of dirty straw seated amidships, smoking and staring at a branch of poplar above him. It was idyllic: and Father Conmee reflected on the providence of the Creator who had made
maybe the same barge Bloom had
noticed
a mile west 3 hrs earlier: "A man stood on his dropping barge between clamps of turf. On the towpath by the lock a slacktethered horse."
streetview now
1909 map
"smoking... idyllic" (echo of Lotus-eaters)
mysteries:
[DD]
[IM]
[LV1]
[LV2]
ch10
210
211
212
213
214
215
216
217
218
219
220
221
222
223
224
225
226
227
228
229
230
231
232
233
234
235
236
237
238
239
240
241
242
243
244