6AA     9TL    7MD   2CK    18PD   11DD    16BM    14Si    13SD  17TF
    1FC     5BB   3os   19vc    4KB    12TK     8NL    15MC   10LB   
19 10/2 23  18 20           (24)
    13  24        16 15  42  40                 (16)
    14  25               42     17  27  29
    15 (42)(41)  (38)    42  41        (42) 38   21  34 36  31
           (36)                             39   22  35 37  32 26 40
   (33)    (43)         43/4(44)   (43)    (43) (42)   (43) 33   (44)

<
He followed his guest to the outlet and then whirled his lath away among the pillars. With J.J. O'Molloy he came forth slowly into Mary's abbey where draymen were loading floats with sacks of carob and palmnut meal, O'Connor, Wexford.
He stood to read the card in his hand.
— The reverend Hugh C. Love, Rathcoffey. Present address: Saint Michael's, Sallins. Nice young chap he is. He's writing a book about the Fitzgeralds he told me. He's well up in history, faith.
Rathcoffey to Sallins =
6 miles
(since he's fictional we can only guess his age)
intrusion 8NL43:
The young woman with slow care detached from her light skirt a clinging twig.
c3:30pm, not long after the 4KB7 intrusion
— I thought you were at a new gunpowder plot, J.J. O'Molloy said.
cf p
129
: "[You look] Like fellows who had blown up the Bastille, J.J. O'Molloy said in quiet mockery. Or was it you shot the lord lieutenant of Finland between you? You look as though you had done the deed. General Bobrikoff."
Ned Lambert cracked his fingers in the air.
— God! he cried. I forgot to tell him that one about the earl of Kildare after he set fire to Cashel cathedral. You know that one? I'm bloody sorry I did it, says he, but I declare to God I thought the archbishop was inside. He mightn't like it, though. What? God, I'll tell him anyhow. That was the great earl, the Fitzgerald Mor. Hot members they were all of them, the Geraldines.
The horses he passed started nervously under their slack harness. He slapped a piebald haunch quivering near him and cried:
— Woa, sonny!
He turned to J.J. O'Molloy and asked:
— Well, Jack. What is it? What's the trouble? Wait a while. Hold hard.
JJOM has a favor to ask now?
With gaping mouth and head far back he stood still and, after an instant, sneezed loudly.
— Chow! he said. Blast you!
— The dust from those sacks, J.J. O'Molloy said politely.
— No, Ned Lambert gasped, I caught a... cold night before... blast your soul... night before last... and there was a hell of a lot of draught...
He held his handkerchief ready for the coming...
— I was... Glasnevin this morning... poor little... what do you call him... Chow! ...Mother of Moses!
we'll see Love again at
14Si47
⁎*⁎
this section probably begins in the Empire Palace Theatre around 3:05pm (but where's the theatre manager?)
Miss Dunne may be across the street
streetview now
1909 map
Tom Rochford took the top disk from the pile he clasped against his claret waistcoat.
this was a real person (whom we saw briefly in
episode 8
) and his real but
anachronistic
invention, a cross between a rube-goldberg device and a bingo machine. (the demo seems much too quick) [
patent
]
— See? he said. Say it's turn six. In here, see. Turn Now On.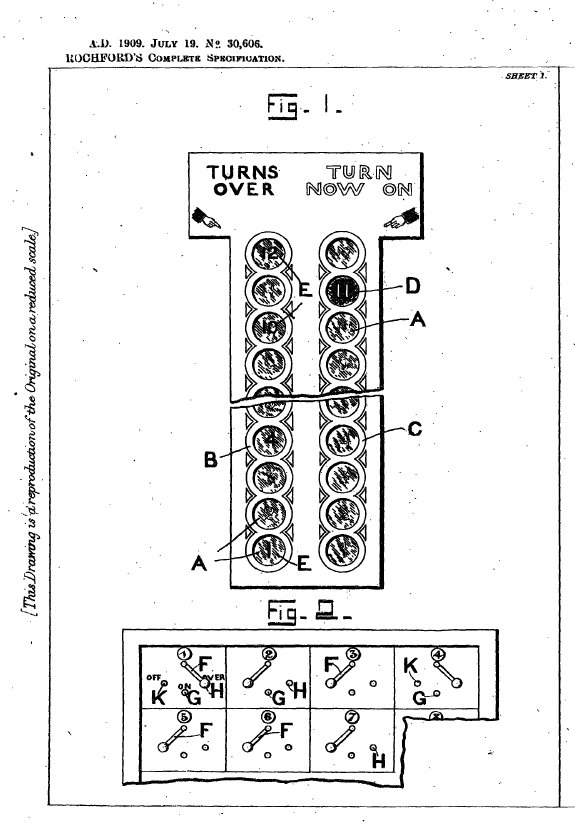 mysteries: where's the demo?
[DD]
[IM]
[LV1]
[LV2]
ch10
210
211
212
213
214
215
216
217
218
219
220
221
222
223
224
225
226
227
228
229
230
231
232
233
234
235
236
237
238
239
240
241
242
243
244