6AA     9TL    7MD   2CK    18PD   11DD    16BM    14Si    13SD  17TF
    1FC     5BB   3os   19vc    4KB    12TK     8NL    15MC   10LB   
19 10/2 23  18 20           (24)
    13  24        16 15  42  40                 (16)
    14  25               42     17  27  29
    15 (42)(41)  (38)    42  41        (42) 38   21  34 36  31
           (36)                             39   22  35 37  32 26 40
   (33)    (43)         43/4(44)   (43)    (43) (42)   (43) 33   (44)

<
pseudo-intrusion 13SD43:
Father Conmee, having read his little hours, walked through the hamlet of Donnycarney, murmuring vespers.
streetview now
1909 map
3 miles northeast
this should be shortly after we left him with Lynch and Kitty, though he's progressed north some ways. it would have been early for vespers, but he probably kept reading from momentum...?
Binding too good probably. What is this? Eighth and ninth book of Moses. Secret of all secrets. Seal of King David. Thumbed pages: read and read. Who has passed here before me? How to soften chapped hands. Recipe for white wine vinegar. How to win a woman's love. For me this. Say the following talisman three times with hands folded:
"Binding too good" ...to be with these cheap titles?
— Se el yilo nebrakada femininum! Amor me solo! Sanktus! Amen.
Who wrote this? Charms and invocations of the most blessed abbot Peter Salanka to all true believers divulged. As good as any other abbot's charms, as mumbling Joachim's. Down, baldynoddle, or we'll wool your wool.
— What are you doing here, Stephen?
Dilly's high shoulders and shabby dress.
since we saw her with Simon, she's crossed the river and bought a book, so this is after Simon's subsection
below
(1/5 mi = 4min, plus bookbuying).
"high shoulders" = not slouching now?
Shut the book quick. Don't let see.
— What are you doing? Stephen said.
A Stuart face of nonesuch Charles, lank locks falling at its sides. It glowed as she crouched feeding the fire with broken boots. I told her of Paris. Late lieabed under a quilt of old overcoats, fingering a pinchbeck bracelet, Dan Kelly's token. Nebrakada femininum.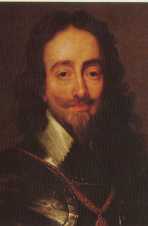 the domestic scene would have been during their mother's illness (probably before her death). burning boots would stink. dan kelly sounds like a sweetheart of dilly's. (joyce may be mentioning the sweetheart to reassure us it wasn't an incestuous lieabed.)
— What have you there? Stephen asked.
— I bought it from the other cart for a penny, Dilly said, laughing nervously. Is it any good?
she probably didn't want to pay the halfpenny toll (stopping at the cart under Merchant's arch?) instead using O'Connell bridge. we know that "The gates of the drive opened wide" for the cavalcade just before Lenehan saw Bloom, and it "passed... out of Parkgate" before Dilly and Simon parted.
My eyes they say she has. Do others see me so? Quick, far and daring. Shadow of my mind.
He took the coverless book from her hand. Chardenal's French primer.
[
ebook
]
— What did you buy that for? he asked. To learn French?
She nodded, reddening and closing tight her lips.
Show no surprise. Quite natural.
— Here, Stephen said. It's all right. Mind Maggy doesn't pawn it on you. I suppose all my books are gone.
— Some, Dilly said. We had to.
She is drowning. Agenbite. Save her. Agenbite. All against us. She will drown me with her, eyes and hair. Lank coils of seaweed hair around me, my heart, my soul. Salt green death.
We.
the sisters supporting each other, without Stephen or Simon
Agenbite of inwit. Inwit's agenbite.
Misery! Misery!
neither Stephen nor Bloom interacts with the cavalcade (do they?)
mysteries:
[DD]
[IM]
[LV1]
[LV2]
ch10
210
211
212
213
214
215
216
217
218
219
220
221
222
223
224
225
226
227
228
229
230
231
232
233
234
235
236
237
238
239
240
241
242
243
244