6AA     9TL    7MD   2CK    18PD   11DD    16BM    14Si    13SD  17TF
    1FC     5BB   3os   19vc    4KB    12TK     8NL    15MC   10LB   
19 10/2 23  18 20           (24)
    13  24        16 15  42  40                 (16)
    14  25               42     17  27  29
    15 (42)(41)  (38)    42  41        (42) 38   21  34 36  31
           (36)                             39   22  35 37  32 26 40
   (33)    (43)         43/4(44)   (43)    (43) (42)   (43) 33   (44)

<
coils of bronze and silver, lozenges of cinnabar, on rubies, leprous and winedark stones.
Born all in the dark wormy earth, cold specks of fire, evil lights shining in the darkness. Where fallen archangels flung the stars of their brows. Muddy swinesnouts, hands, root and root, gripe and wrest them.
lust-guilt?
cf fox burying grandmother?
She dances in a foul gloom where gum burns with garlic. A sailorman, rustbearded, sips from a beaker rum and eyes her. A long and seafed silent rut. She dances, capers, wagging her sowish haunches and her hips, on her gross belly flapping a ruby egg.
belly dancer
Old Russell with a smeared shammy rag burnished again his gem, turned it and held it at the point of his Moses' beard. Grandfather ape gloating on a stolen hoard.
cf
Yeats
? "One day I saw faintly an immense pit of blackness, round which went a circular parapet, and on this parapet sat innumerable
apes
eating precious stones out of the palms of their hands. The stones glittered green and crimson, and the apes devoured them with an insatiable hunger"
And you who wrest old images from the burial earth? The brainsick words of sophists: Antisthenes. A lore of drugs. Orient and immortal wheat standing from everlasting to everlasting.
McHugh to SD, p
142
: "You remind me of Antisthenes, the professor said, a disciple of Gorgias, the sophist. It is said of him that none could tell if he were bitterer against others or against himself. He was the son of a noble and a bondwoman. And he wrote a book in which he took away the palm of beauty from Argive Helen and handed it to poor Penelope."
p
38
, just after seeing the 'midwives': "Belly without blemish, bulging big, a buckler of taut vellum, no, whiteheaped corn, orient and immortal, standing from everlasting to everlasting."
pseudo-intrusion 13SD19 from
two miles east
:
Two old women fresh from their whiff of the briny trudged through Irishtown along London bridge road, one with a sanded tired umbrella, one with a midwife's bag in which eleven cockles rolled.
streetview now
1909 map
The whirr of flapping leathern bands and hum of dynamos from the powerhouse urged Stephen to be on. Beingless beings. Stop! Throb always without you and the throb always within. Your heart you sing of. I between them. Where? Between two roaring worlds where they swirl, I. Shatter them, one and both. But stun myself too in the blow. Shatter me you who can. Bawd and butcher were the words. I say! Not yet awhile. A look around.
Corporation Electricity Works
1909
Yes, quite true. Very large and wonderful and keeps famous time. You say right, sir. A Monday morning. 'Twas so, indeed.
passing a clockmaker's window (with the same name as the archbishop?)
Stephen went down Bedford row, the handle of the ash clacking against his shoulderblade. In Clohissey's window a faded 1860 print of Heenan boxing Sayers held his eye. Staring backers with square hats stood round the roped prizering. The heavyweights in tight loincloths proposed gently each to other his bulbous fists. And they are throbbing: heroes' hearts.
"shoulderblade" = resting it on his shoulder?
streetview now
[
1909 map
]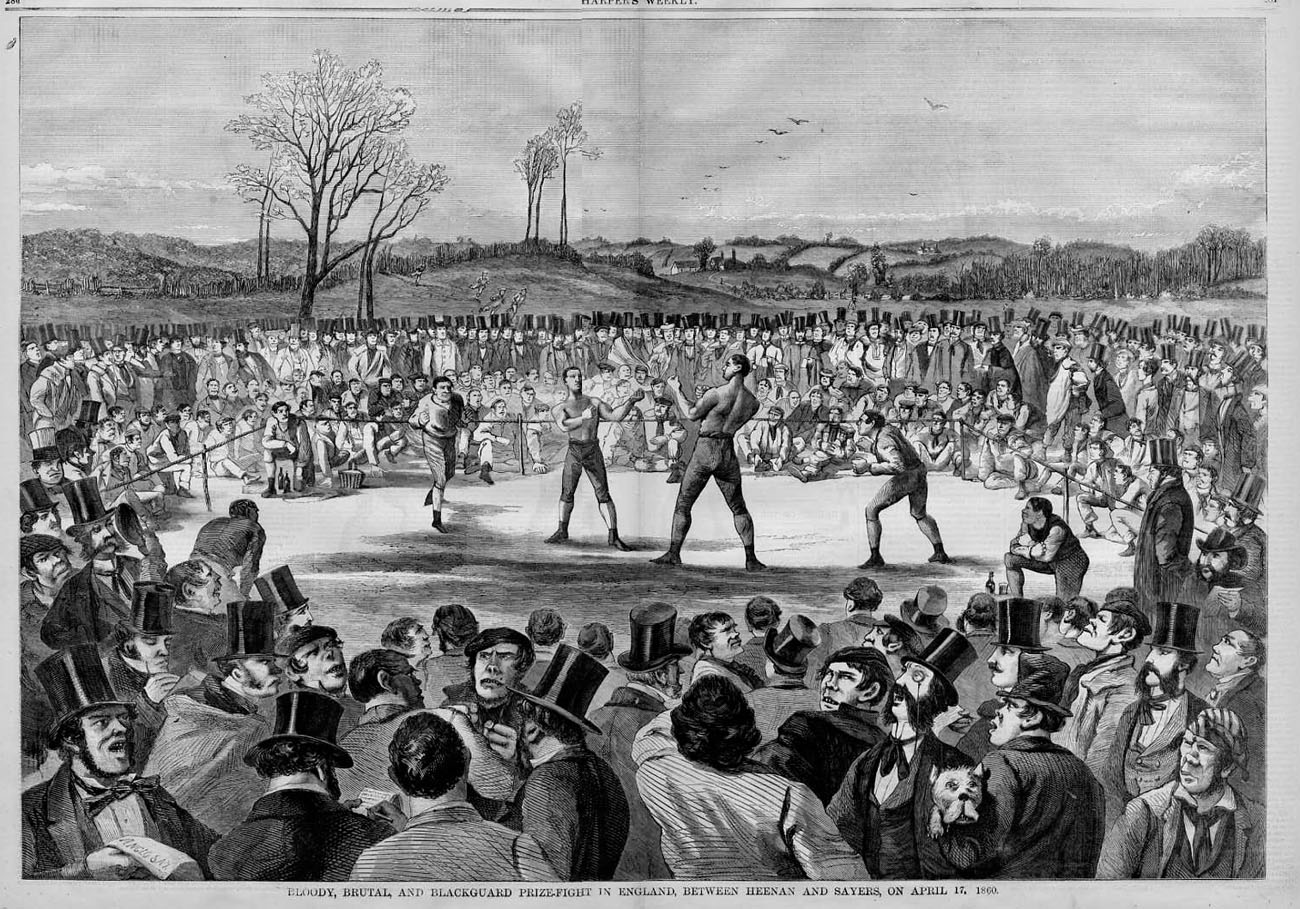 He turned and halted by the slanted bookcart.
— Twopence each, the huckster said. Four for sixpence.
Tattered pages. The Irish Beekeeper. Life and Miracles of the Curé of Ars. Pocket Guide to Killarney.
I might find here one of my pawned schoolprizes. Stephano Dedalo, alumno optimo, palmam ferenti.
mysteries:
[DD]
[IM]
[LV1]
[LV2]
ch10
210
211
212
213
214
215
216
217
218
219
220
221
222
223
224
225
226
227
228
229
230
231
232
233
234
235
236
237
238
239
240
241
242
243
244